Image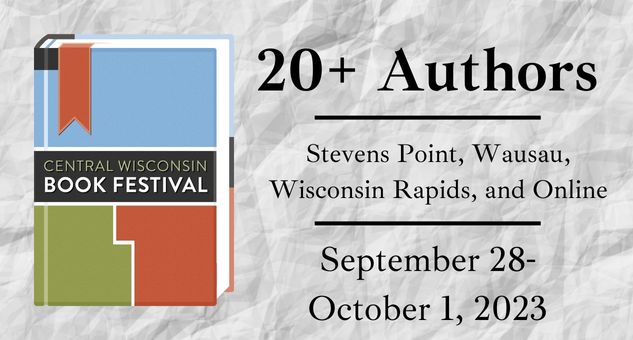 The 2023 Central Wisconsin Book Festival will take place the last weekend in September: Sept. 28-Oct. 1! Events will happen over the weekend at various locations in Wausau, Stevens Point, and Wisconsin Rapids. Find details on the full lineup here, and keep an eye on our festival Facebook page and our Twitter feed for updates.
Central Wisconsin Book Festival 2023 Schedule
Poetry Walk: September 1-30, Downtown Stevens Point and Wausau
Poetry Walk Reading: Saturday, September 23, 10:00 AM
Thursday, September 28, 2023
6:30 PM – In Conversation with Angeline Boulley [Virtual - Click here for link when event starts] (Firekeeper's Daughter and Warrior Girl Unearthed)
Friday, September 29, 2023
5:30 PM – Local Author Spotlight: Speculative Fiction with Kathy Sherwood and Nikki Kallio
Saturday, September 30, 2023
9:00 AM – Sue Berg (Driftless Mystery Series)
11:00 AM – Debut Author Spotlight: Larry F. Sommers and Steve Fox
1:00 PM – John Armbruster (Tailspin)
2:30 PM – Scott Spoolman (Wisconsin Waters)
Sunday, October 1, 2023
1:00 PM – Patty Loew (Indian Nations of Wisconsin)
NEW 6:00 PM – Live Q&A with Angeline Boulley [Click this link to join when the event starts]
All events take place in the Pinery Room of the Portage County Public Library, Stevens Point Branch at 1001 Main St. unless otherwise noted.