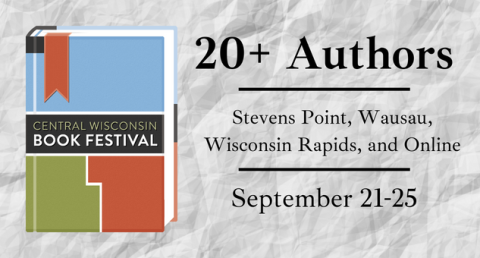 The Central Wisconsin Book Festival is coming to Stevens Point! We are partnering with the Marathon County Public Library in Wausau and McMillan Memorial Library in Wisconsin Rapids to bring more than 20 authors to Central Wisconsin, both virtually and in-person. Authors appearing in Stevens Point include:
Gardening expert Melinda Myers

Children's author Jamie A. Swenson

Sci-Fi author John Jackson Miller

Local, debut novelist B. A. McRae

Local, debut novelist Patrick Phair
Historian Theresa Kaminski
Political expert (and recent immigrant) Najib Azad
Virtual events include Patricia Skalka, author of the Dave Cubiac Door County Mysteries.
Special guest Jennifer Chiaverini will appear at the Marathon County Historical Society in Wausau on the evening of Saturday, September 24!
Also look for the Wisconsin author double-feature event with Quan Barry and Nickolas Butler!
See the Festival site for a full list of events: https://www.mcpl.us/cwbf