Library Sponsored:
Beanstack
Our popular programs, 1,000 Books Before Kindergarten (for children from birth to age 5) and Family Read Aloud Challenge are now online! Visit pocolibrary.beanstack.org or download the Beanstack Tracker app to register.
Dungeons & Dragons - Virtual
Calling all kids & teens in grades 5-12! Register now for a role-playing adventure in April! Join other players in a virtual environment (Zoom) as you play Dungeons & Dragons. There will be four sessions of virtual tabletop excitement. These sessions are great for beginners and experienced role-players. Call or email now to sign up as space is limited. 715-346-1549 or youthservices@pocolibrary.org
Family Book Breaks
Join us @ 10:30am each weekday for a storytime hosted by one of your local librarians. We'll bring your public library to you! Please join the Portage County Public Library Storytimes group to enjoy these live family events: https://www.facebook.com/groups/767129597364751. #PCPLBookBreak
Learning Labs
Call 715-346-1549 or your preferred branch location to reserve these grab-n-go kits today! First come, first served, while supplies last, to be picked up via curbside service or at the Youth Services desk.
Learning Lab: Handmade Journals
PCPL Talks Books
Dungeons & Dragons: Young Adventurer's Collection by Jim Zub
The Field Guide to the North American Teenager by Ben Philippe
Patron Saints of Nothing by Randy Ribay
Storytime Scavenger Hunts
We are excited to bring you a new way to enjoy storytime from home. Follow the links for a Storytime Scavenger Hunt!
Oceans:   https://forms.gle/8ghjZ5DzqrMTfWkw8
Food:   https://forms.gle/4j2Y7m9YUge33ipG8
Bears:  https://forms.gle/fkRYLMqVwqZoSS9j6
Gators & Crocs:  https://forms.gle/ivEke1FhF2iRaTNeA
Space:  https://forms.gle/EfwTuzt1A6bSMi3y5
Chicks & Eggs:  https://forms.gle/M8kKWxUvkW1iGTur9
Cats: https://forms.gle/ruyio9YekrmGJMg86
Trucks:  https://forms.gle/nmAoSE1miPLvQouU6
Monsters:  https://forms.gle/js3SusKftqbGuepk9
Unicorns:  https://forms.gle/xQghz2w68nCJXxJ28
Books:  https://forms.gle/kyuksgX6p1hsxAcE6
Gardens:  https://forms.gle/ag2q2Hh9TWiTq1RP8
Dinosaurs:  https://forms.gle/7FA854u6weKboPnTA
Frogs:  https://forms.gle/Td2pEsCzuDLLfY8U8
Pumpkins & Halloween: https://forms.gle/JY8qbqRWLfcVXBpw8
Give Thanks: https://forms.gle/aXngR1xJVfFAtT6F7
Storytime Snippets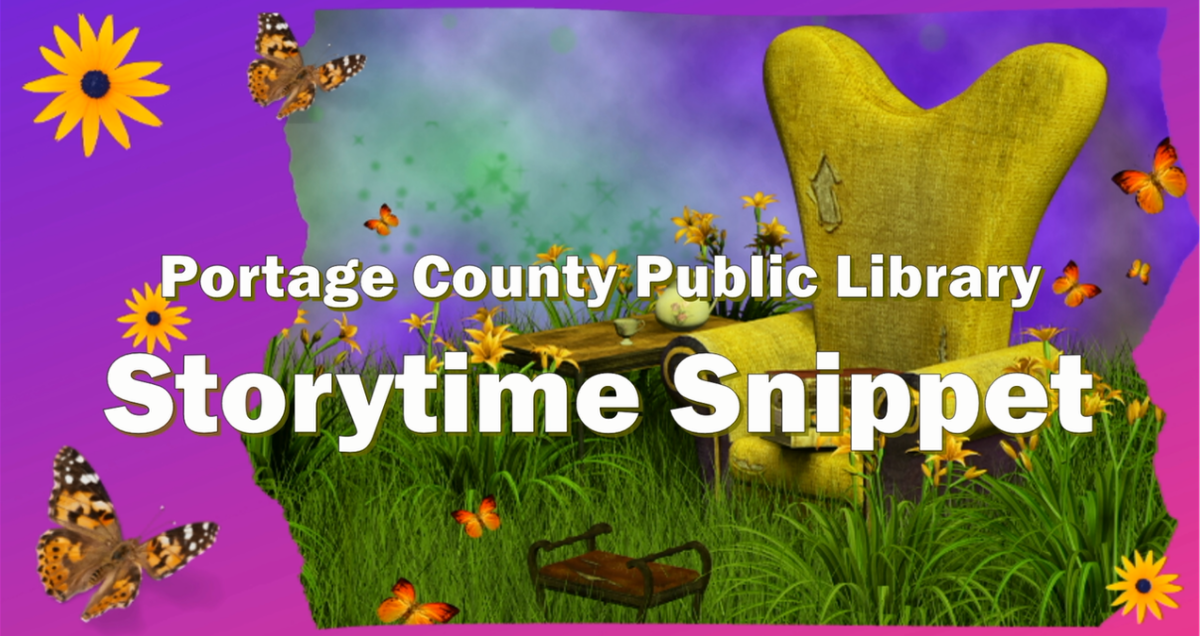 Enjoy your favorite rhymes and songs from our Family Book Breaks on the Portage County Public Library YouTube Channel.
Teen Lit Loot
   
Who?      Teens in grades 6-12.
What?     A personalized book subscription bag with a new theme each month.
Why?      To receive a custom-selected book checked out on your library card
                & surprise themed goodies!
Where?   Portage County Public Library – Youth Services
How?      Register for a subscription bag by clicking on the themes listed below.
Registration is open for the following themes:
(Registration for each new themed loot bag will begin on the 1st of every month.
After registering you will be contacted when your loot is ready for pick up!)
Online Resources:

Bookmarks: Celebrating Black Voices
Bookmarks: Celebrating Black Voices is a live-action collection of 12 five-minute episodes featuring prominent Black celebrities and artists reading children's books from Black authors that highlight the Black experience. Visit: https://www.netflixbookmarks.com/ to view the episodes and to access links to additional resources. The videos are also available for free without subscription on the Netflix Jr. YouTube page: https://www.youtube.com/c/NetflixJr/
Coronavirus: A book for children by: Axel Scheffler
Nosy Crow Publishing Company has released a book for children that explains the Coronavirus.
Follow this link to access the free book:https://nosycrowcoronavirus.s3-eu-west-1.amazonaws.com/Coronavirus_ABookForChildren.pdf
KidLit at Home
KidLit At Home is styled as a "Netflix for Kid Lit." It offers a new way for parents, educators, and young readers to access the myriad online storytime, drawing and writing tutorials, STEM and STEAM video content being offered across the web by the biggest names in children's literature, all curated in one easy to use, convenient online location: https://kidlit.tv/KidLitAtHome.
Novel Effect App

Your voice. Your books. Not the same old storytime.
Music, sound effects, and character voices play at just the right moment, adjusting and responding to your voice as you read your favorite titles together. Promote language development, increase engagement, and make storytime a little more fun for kids (and grown-ups too!) https://noveleffect.com/

PBS Kids Talk About: Race & Racism
PBS KIDS announced a new special, "PBS KIDS Talk About: Race and Racism," which premiered on October 9. The half-hour program features authentic conversations between real children and their parents, and includes content from PBS KIDS series DANIEL TIGER'S NEIGHBORHOOD, ARTHUR and XAVIER RIDDLE AND THE SECRET MUSEUM. The show features kids and their parents talking about race and racial justice-related topics in an age-appropriate way, such as noticing differences in race, understanding what racism can look like, and embracing the role we all have to play in standing up for ourselves and each other -- offering viewers ideas to build on as they continue these important conversations at home. The program can be view on the PBS Kids YouTube channel.
Schmeeckle Reserve Nature Programs
Schmeeckle Reserve is offering its Spring Nature Program Series in an online virtual format. Click on the title links to access the entire video collection.
Family Nature Programs: These 20-30 minute family-friendly programs are created for all ages. Explore a variety of nature-themed topics to inspire your outdoor adventures.
Preschool Discovery Programs: These 15-20 minute fun programs are created for children ages 3-6. Join our naturalists with songs, stories, and activities related to things you can see in Schmeeckle Reserve.